PO 1. Basic knowledge: Apply knowledge of basic mathematics, sciences and Basic engineering to solve the broad-based electrical engineering Problems.
PO 2. Discipline knowledge: Apply electrical engineering knowledge to solve broad based electrical engineering related problems.
PO 3. Experiments and Practice: plan to perform experiments and practices To Use the results to solve broad based electrical engineering problems.
PO 4. Engineering tools: Apply relevant Electrical technologies and tools with an understanding of the limitations.
PO 5. The engineer and society: Assess societal, health, safety, legal and Cultural issues and the consequent responsibilities relevant to practice In the field of electrical engineering.
PO 6. Environment and sustainability: Apply Electrical engineering solutions Also for sustainable development practices in societal and environmental contexts.
PO 7. Ethics: Apply ethical principles for commitment to professional ethics, Responsibilities and norms of the practice also in the field of electrical Engineering.
PO 8. Individual and teamwork: Function effectively as leader and team Member in diverse/multidisciplinary teams.
PO 9. Communication: Communicate effectively in oral and written forms.
PO 10. Lifelong learning: Engage in independent and lifelong learning Activities in the context of technological changes also in the electrical Engineering and allied industry.
PROGRAM SPECIFIC OUTCOMES (PSOs)
PSO 1. Electrical Equipment: Maintain various types of rotating and static Electrical equipment.
PSO 2. Electric power systems: Maintain different types of electric power Systems.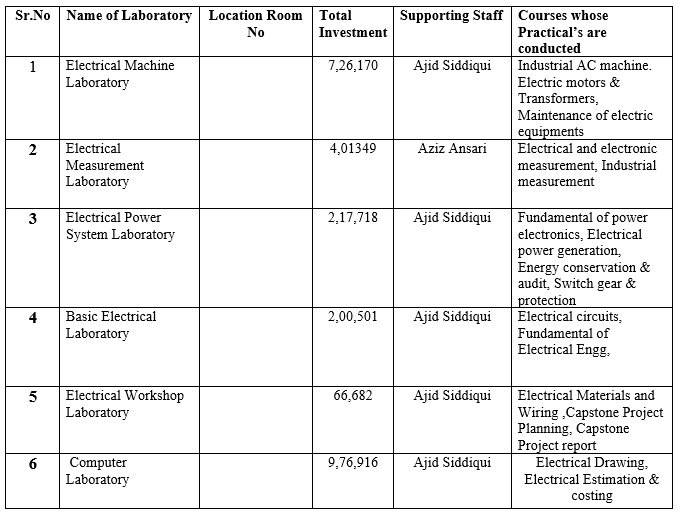 About Electrical Engineering
| NAME OF DEPARTMENT | Electrical Engineering |
| --- | --- |
| YEAR OF ESTABLISHMENT | 2013 |
| COURSES OFFERED | DIPLOMA IN ELECTRICAL ENGINEERING |
| DURATION | 03 YEARS |
| TYPE | FULL-TIME |
| INTAKE CAPACITY | 60 SEATS |
| NO. OF TEACHING STAFF | 04 |
| NO. OF NON- TEACHING STAFF | 01 |